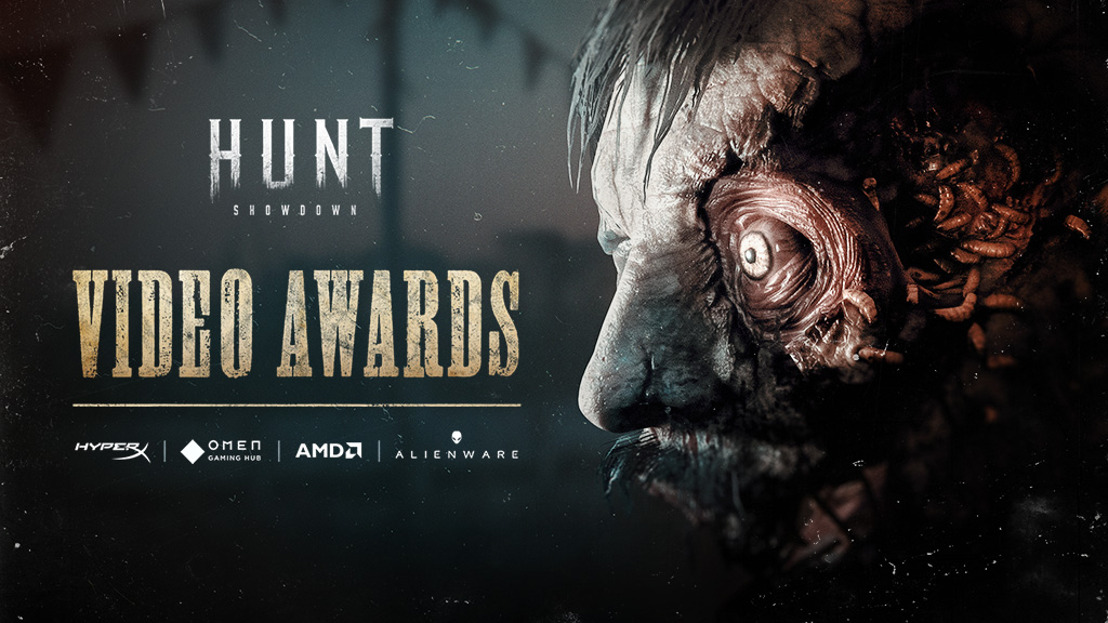 Show off your video-making skills and win spectacular prizes as the Hunt: Showdown Video Awards return!
Gaming hardware—including laptops, PCs, and more—from Alienware, AMD, HP Omen Gaming Hub, and Hyper X can be won for the Hunt-inspired videos.
Wednesday, September 20, 2023 — Following last year's hugely successful inaugural event, the Hunt: Showdown Video Awards have returned, offering fans the chance to showcase their creative flair and win amazing prizes.
Crytek is inviting submissions for short films inspired by Hunt: Showdown across different categories. By wowing the community and a specially selected panel of judges from the Hunt development team, winners will receive prizes including gaming laptops, PCs, monitors, and more from our partners: Alienware, AMD, HP OMEN Gaming Hub, and Hyper X. Last year's Community Choice winners were Terminal Velocity Productions, who made an incredible film which can be viewed here: https://youtu.be/R3m1Ht-kKmk?feature=shared
To win big and become a part of Hunt: Showdown history, fans are invited to enter unique and original Hunt-inspired videos that last four minutes maximum in the following award categories: "Action," "Thriller," "Trailer," and "Freestyle." Submissions could be a live-action cosplay, a cut of great gameplay from the bayou, a music video, or anything else, as long as it is inspired by Hunt: Showdown and fits one of the categories.
To officially submit an entry, fans must upload their video to Vimeo or YouTube and share it on Facebook or X, formerly known as Twitter, with the hashtag #HuntShowdownAwards and the hashtag for the category they wish to enter: #HuntAction, #HuntTrailer, #HuntThriller or #HuntFreestyle.
Submission for entries closes on November 2nd, 2023. The Hunt: Showdown Team will pick a shortlist of nominees for each category from all qualifying entries, and a public vote will be held to decide the winners, who will be revealed during a special Hunt: Showdown Video Awards ceremony, live on Twitch on November 30th 2023.
Players can find out more about how to enter the Hunt: Showdown Video Awards by visiting www.huntshowdown.com. Watch the trailer now at https://www.youtube.com/watch?v=ftDsDAQijn4.
Hunt: Showdown is out now for PC, PlayStation 4, and Xbox One.
About Hunt: Showdown
Hunt: Showdown is a competitive first-person bounty hunting game that packs the thrill of survival horror into a match-based format. Set in Louisiana in 1895, the game boasts a mixture of PvP and PvE elements that create a uniquely tense experience. It's not just the monsters who are a threat—it's every Hunter on the map. In the classic Bounty Hunt game mode, a match pits 12 players—playing solo or in teams of two or teams of three—against each other as they race to take out gruesome beasts for a bounty they must collect and extract off the map, while Hunt's Soul Survivor mode offers a shorter match for solo players to scavenge for weapons as they compete for a diminishing pool of bounty. The higher the risk, the higher the reward–but a single mistake could cost you everything. Hunt is available now on Steam. For more information, visit www.huntshowdown.com.